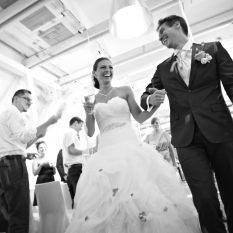 Once you find true love, it is natural that sooner or later, girlfriend and boyfriend turn into bride and groom, and eventually, become husband and wife. Hollywood made the most of this popular and platitudinous topic, sure enough; there is no limit to the romantic movies that make you well up in your handkerchief but always end on the same note: a happy couple with a dream wedding.

Reality, of course, is a bit more difficult than that; the road to a wedding is a rocky one. However, if a couple overcomes all the obstacles, they truly deserve that the fairy tale become reality for their big day. They deserve a perfect wedding. They deserve the ideal place for that wedding.
A couple standing at the gate of their married life is like a two-branched tree: two different worlds that are about to embrace and become one, forever. It is the inspired moment when "you" and "me" cease into the past and "us" is born. This is a once-in-a-lifetime occasion that, naturally, we would like to share with our loved ones, relatives, and friends. This is why we need the best wedding location that is guaranteed by Symbol, in the heart of Óbuda, Budapest.
In order for our wedding ceremony and wedding party to  be really special, we might want to keep some practical things in mind. Here it is, the 5 secrets of an ideal wedding – not necessarily in order of importance:
 1.      Singularity
A slideshow of the couple's photos can make the event a lot more personal, as probably not every wedding guest knows the couple equally intimately.
 2.      The Place of the Wedding
It is crucial, that the atmosphere of the location matches the couple's style. If they would like a traditional environment, let it be. But if they prefer a modern, elegant, youngish, or baroque style, then let that be. In Symbol, almost all kinds of location types are available.
 3.      Decoration
This day is about the newlyweds, hence, ideally, their style shall be reflected in the decoration as well. Colours shall be in harmony but also reflect the personality of the bride and the groom. If there is a concept, the event can also have an individual theme.
 4.      Guests
Whether a smaller or a larger number of guests are invited, it is always important that they feel equally welcome. Besides the kind words, we can surprise them with a small gift as a gesture.
 5.      Party
Beyond a bounteous dinner and a rich selection of drinks, creating a good atmosphere is equally important. Therefore, it is worth compiling the kind of musical repertoire, in which most of the guests would meet their musical taste. The dance floor will never be empty like that!
Do not hesitate to contact us, so that we can help your dream wedding come true!