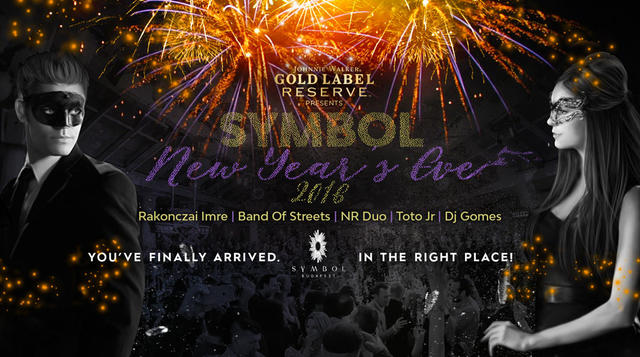 Johnnie Walker Gold Label Reserve PRESENTS: SYMBOL NEW YEAR'S EVE 2016
Excellent meals, fine drinks, live music and a blowout party until dawn at 2 different locations. Enjoy your magnificent five course dinner to the sound of the NR DUO, Band of StreetS, and Lotfi Begi. After the dinner Lotfi Begi and Dj Gomes will spinning the music which going to make the crowd paty like never before. What could be more delightning than greating the New Year with firework and traditional dishes, which could make 2017 a lucky year for you. In the Club Rakonczai Imre and Toto Jr. will make you dance till morning comes. We highly encourage locking down our Diamond or Gold ticket package to be fully prepared, as our previous New Year parties regularly sold out by the first week of December.

TABLE RESERVATION AND TICKETS WITH DINNER

DIAMOND 39.500 HUF | Italian room | Italian private room | Garden 

GOLD 29.500 HUF | Puskás Pancho Sport Pub

Diamond/Gold ticket prices include the 5 course served dinner WITH the OFFERED WINES, the midnight meal, unlimited soft drinks during the dinner and free entry to all programmes. 

PARTY TICKET 5.000 HUF Available only in limited quantity. The party ticket includes one welcome drink (for the first 300), flying bites (mini mince pies, scones, fresh vegetables with dips) and the entrance from 21:00. 
Online tickets: https://www.jegy.hu/program/symbol-szilveszter-2016-75199?lang=en
NEW YEAR'S EVE MENU

Normal

Aperitif: Gancia Prosecco
Amouse bouche: Red tuna Tartar with lime and celery stick

Assorted cold starters:
· Rare sirloin with balsamic grapefruit
· Serrano ham with ruccola and tomato salsa
· Mosaiqued duck liver terrine with truffle oil and frisée
Wine served to the starter: Gesztenyés Riesling 2015, Légli Ottó

Soup: Guinea fowl soup with poultry meat filled morel, vegetable julienne

Main course: Veal steak in colourful pepper crust, served with young potatoes, capia roll and rosemary jus
Wine served to the main course: Etyeki Pinot Noir 2015, Etyeki Kúria 

Dessert: Hazelnut dome with chocolate glaze, sesame crisp
Wine served to the dessert: Hold and Hollo sweet 2008, Holdvölgy

Vegetarian

Aperitif: Gancia Prosecco
Amouse bouche: Baked beet with horse-radish flavoured cottage-cheese and salmon

Assorted cold starters:
· Pistacchio flavoured goat cheese terrine with lamb's lettuce
· Red lentil salad
· Winter vegetable galantine with rspaberry flavoured balsamic vinegar cream
Wine served to the starter: Gesztenyés Riesling 2015, Légli Ottó

Soup: Artichoke flavoured potato cream soup with carrot chips and green oil

Main course: Sage and basil seasoned gnocchi with parmesan, smoked tofu and pak choi
Wine served to the main course: Etyeki Pinot Noir 2015, Etyeki Kúria 

Dessert: Hazelnut dome with chocolate glaze, sesame crisp
Wine served to the dessert: Hold and Hollo sweet 2008, Holdvölgy

After midnight: 
Lentil cream soup with suckling pig meat and fresh sour cream
or
Mini sausage snacks with honey flavoured mustard, horse radish and home-baked bread
DOOR OPENING: 19:00 | DINNER START: 20:30

TABLE RESERVATION AND INFORMATION

SYMBOL Budapest | 1036 Budapest, Bécsi út 56. 
www.symbolbudapest.hu 
info@symbolbudapesthu
+36 30 748 40 50