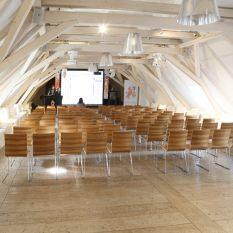 Residential conferences and meetings
If you would like to organize a conference or meeting of several days but you are fed up with hotel services, dull conference rooms and monotony, Symbol Budapest is a perfect choice. Seven independent units of Symbol Budapest are available at the foot of Rózsadomb hills, in the heart of Óbuda – close to the city centre yet away from is crowdedness. Event managers provide our guests from the country or from abroad with accommodation in  nearby hotels.
Participants coming to residential corporate events to Budapest often complain that they can hardly step out of the hotel during their stay; that lecture rooms are all alike and services made available for them are inflexible and impersonal. Symbol Budapest offers an alternative to each of these problems. In Symbol's seven separate units of distinct size and atmosphere but of the same technical panel, our event managers are careful to plan corporate events with the utmost attention to our clients' needs
Locations
We have opportunities for both further trainings of small groups or conferences of more than a hundred individuals,.
The technical panel is more than satisfying. The areas are air-conditioned, all equipped with a projector, screen, interior sound system, and lighting technology. The efficiency and proficiency of presentations are further enhanced by our technician colleague. The well-separable facilities of Symbol Budapest guarantee that the events go undisturbed. The House's restaurants are available to our guests, but an exclusive buffet or seated meals are also possible options.
Conference Offer
This concept of ours was specifically designed to match the requirements of a corporate event. As part of our conference offer, facilities are made available for use without setting a minimum limit of consumption between 8 am and 17 pm. When reservations are made jointly for several events, individual discounts are further available.*
Meals – breakfast, lunch – can take place in any of our restaurants, as well as at the event's particular place. If desired, an evening reception can make the occasion even more memorable. The organization and planning of the event is assisted by our event manager team.
Accommodation
Symbol has a partnership with several Budapest hotels, which allows us to also ensure the accommodation of our guests coming to Budapest for a conference or corporate event.
On client's demand, event managers –– support or plan and orchestrate the event as well as attending hotel reservations and other tasks of coordination.
Exhibitions, sales
The more than 3500 square meter large floor-space of Symbol Budapest House is particularly suitable for sales and exhibitions.
The separable but at the same time connected – both on individual demand – areas allow participants to go around the exhibition, get to know the products and services of exhibitors and make new contacts. Symbol's location, its infrastructure, and the opportunity of free parking are benefitial both to exhibitors and visitors. Symbol's banqueting-halls, in turn, serve as excellent locations for specialized presentations, demonstrations, workshops or other commercial events. Our event managers are always happy to cooperate and attend to the necessary responsibilities of organization.
On individual demand, exhibitors from the country side or abroad are ensured with accommodation in partnering hotels.
Who already presented in Symbol Budapest: Telenor Hungary, Maxxon Reklám, Quintess, Procter&Gamle, LadeePharma, Wörwag Pharma, and Zewa.
For further information, please contact our experienced event managers!
*Information is only indicative