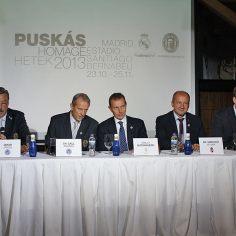 The perfect location in Budapest
Being suitable for a press conference, a location needs to match a lot of requirements.
It is necessary to have a separate area ensuring that the conference goes undisturbed, participants can work without interruption and necessary preparations are able to be met. Besides, for the better quality of photography and visual material taken at the event good light conditions, an appropriate amount of natural light and professionally set illumination, are crucial. Excellent sound technology and appropriate equipments for it are also very important.
A standard element of a press conference is the standing reception at the end of the event where the event's hosts and the representatives of the press can take discussions further, add and inquire for more information and make connections. It's an important aspect that the particular room, in addition to the basic frontal presentations, would be suitable for these types of services and that a staff for services would be available also. If the chosen location has no local kitchen and staff itself, the responsibility to provide this will lie with the organisers as well. In Symbol, all this is certainly taken care of.
Practically, each room in the House is in possession of the qualities that were listed to guarantee the undisturbed proceeding of your event. Symbol Art Gallery, Puskás Pancho Pub, the Garden, Live Music Pub, and the 200 Year Old Cellar Restaurant as well as Italian Fusion Restaurant has the required interior design with separable compartments, adequate light and sound technique, and the perfect setting for a standing reception. When planning events, special needs are coming up several times. For instance, the exhibition of a car in the interior area, or screening a video installation attended by live music; what is more, exhibited products can often be tested or assessed by the gueststhemselves. The execution of such extraordinary elements is limited to only a number of locations; however, the architecture of Symbol House, the  furnishing of the areas and the professionalism of the staff make realizable even unique ideas.
Staff 
Installing a press conference or any other press event gives an endless amount of tasks to organizers. Symbol Budapest not only wants to provide a location for the event but – on demand – personalized assistance at the separate phases of the planning and installation. We put special emphasis on relieving our clients of burdens as much as we can and implement their events with precision,efficiency and true to how they imagined them.
Our event managers acquired their experience by organizing completely different types of events throughout the years. Several large-scale press conferences, fashion shows, book openings, demonstrations ran under their supervision, therefore, their experience is quite remarkable. In case of individual demand, they are ready to attend to all of the incurring responsibilities of an event at the highest standards.
Setting the necessary nuances of light and sound technology cannot burden clients either. At every event in Symbol, our technician college takes care of the optimal set-up of technical panels, of solving the problems and attending to needs that come up during the occasion, and that lectures, demonstrations or discussions shall not be disturbed by any such problems.
When planning the requested standing or, rarely, seated receptions we consider the highest standards. At every event organized by us, a professional staff matched specifically to the occasion and speaking in many languages, guarantees the impeccable catering.
If you are looking for an equipped and elegant place for your press events, please contact our event managers!
Among those who chose us, are: FourFourTwo Magazin, Suzuki Cup Europe, Norbi Update, Red Bull and Dove.