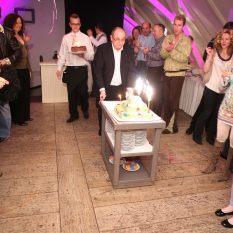 In our hectic life style, where the holy trinity of work, work, and work occupies all our days, we often have no time or energy to enjoy even the most precious moments. There are only a few occasions when it still canhappen – and one of them is our birthday. Everyone has a day in his/her life that is only and exclusively about them. And this day comes every year, only once, but maybe this is exactly why it is so special. So let's bring it to life!

A birthday is not only about the one celebrated but about relatives and friends alike. How good it feels to give a present or surpriseto someone! How nice it is to gather together for lunch or dinner at such an occasion every once in a while; or maybe to have a "let your hair down", unforgettable party! It is not a new thing to celebrate birthdays; people have commemorated this event for longer than you would think.
Did you know that…
…ancient Egyptians who made the first calendars already celebrated birthdays? For instance Plutarch writes, how Cleopatra VII, the Egyptian Queen gave a present to her lover, Marcus Antonius, the member of the II. Triumvirate.
…the ancient Greeks celebrated their god's birthday in every month? People placed honey and moon-shaped cakes on the altar of the goddess, Artemis on the 6th of each month.
…Roman emperors celebrated their birthdays with great glamour, bloody gladiator fights and huge circus festivities? Cesar Caligula apparently gave amnesty to everyone who said happy birthday to him on the day.
…cake and candles come from old Germanic traditions? If the birthday boy or girl could blow all the candles at once, it was taken by Germanic people as a good sign with regards to the future.
These things also show  that birthdays are such events that people have celebrated across times and cultures, all around the world. At Symbol, you can have exactly the kind of birthday that you have imagined. The only thing you need to do is to contact our event managers; your inquiry is warmly welcome, so that you really have a happy birthday!