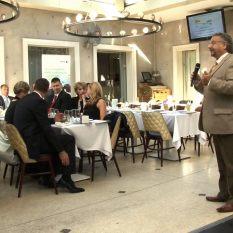 Symbol House is capable both for a meeting, training, or business talk of 10-15 people and a conference or reception of 150. At Symbol, every condition is given to successfully implement a corporate event. In addition to providing the place, we support your event with several other services.
Symbol Budapest's experienced event managers are willing to take on the complete supervision of an event, attending to every detail from the first phases of planning to the last phases of implementation.
Symbol's restaurants, Italian Fusion Restaurant, Puskás Pancho Sport Pub, and the 220 Year Old Cellar Restaurant, offer different courses of culinary art selected of a wide range of flavours, at either a standing or a seated reception after the conference.
We are also willing to take such individual requests into account as selecting the furniture or setting the lights.
Every facility has an outstanding technical panel; if necessary, our technician can further help the proceedings.
Free parking is provided to all of our guests in the near parking house of Új Udvar Bevásárlóközpont.
Those who already chose us: Huawei, Sony Music, Üzlet és Stílus conference, Funzine