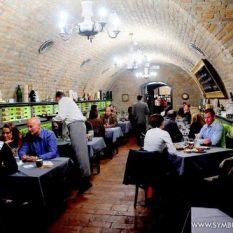 However, we do not exaggerate to say that a meeting's success can depend on the circumstances. At Symbol, you have nothing to worry about; you are guaranteed to have the best of all! Do you remember Pretty Woman's classic scene when Julia Robert's Vivian Wardo is taught in which order to use the cutlery?  From the outside in – was the simple instruction which helped Vivian, at least in terms of eating, to manage the elegant business dinner by Richard Gere's perfect gentleman, Edward Lewis's side. By virtue of this, we also enlist 5 of those mistakes that are better not make at such events:
1.      Being Late
It is inappropriate to be late for any meeting, as for a business lunch or dinner as well. Of course it happens to everyone that one gets caught in an unexpected traffic jam but if you already see you are more than five minutes late at least let your partner know!
2.      Flee market on the table
According to the etiquette no personal objects should be put on the table; wallet or car keys are no exceptions. Any unnecessary belongings are better to be left at the cloak room, if one has nowhere else to put them.
3.      Appearance
There is no official dress code at a business lunch or dinner; still it is a conservative and elegant, rather than an everyday and casual, look that is commonly accepted. At an event like this, we not only represent ourselves but also our company. For women skirt, and for men tie, is recommended.
4.      Communication
During a business lunch we have a chance to convince our partner about what our company has to offer, however, it is not only important what we say but also how we say that. We shall sit with a straight posture, and shall not, by any means, speak with a full mouth or gesticulate with the cutlery in our hands!
5.      Alcohol
Even if you are served alcohol at a business lunch or dinner, it is appropriate to have no more than two glasses of wine. This isn't the time to let loose; a befuddled look will hardly make business better.
Following these little rules, you can make a good impression on your business partner; however, choosing the right location is just as important. Customs of the modern business world call for an elegant and exclusive restaurant, criteria which are fulfilled by all of Symbol's catering units. In the Italian Fusion Restaurant, the Garden, or the 220 Year Old Cellar Restaurant, you are guaranteed polite and discrete service whether it is for a gala dinner or a buffet reception.
Reserve a table at Symbol Budapest, so we can be of assistance to your business!