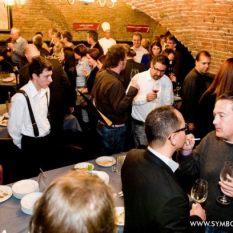 Planning
Organizing a business breakfast or brunch requires thoughtful planning and careful attention, which is to be started well before the event actually takes place. Careful planning of the guest list, choosing food and drinks, designing decoration, picking location, as well as providing the technicalities for an occasional presentation – and the list goes on – are all part of the responsibilities.
Symbol Budapest is ready to take over these responsibilities from its clients. Symbol's event managers have diverse professional experience. They are ready to plan and carry out the event that clients have imagined. The staff necessary for the event's implementation is also provided. At business events or receptions organized by us, professional staff, picked specifically for the event and speaking in many languages, guarantees the impeccable catering.
Perfect Locations in Symbol House, Budapest – Some of the opportunities, the list isn't exhaustive
Symbol Garden
The soul and centre of Symbol Budapest is the Garden. The four-hundred square meter area's many architectural sites attract the attention of, and prompt the amazement of, our guests. The convertible glass roof above Garden provides access to natural sun light during the day and a beautiful view to the stars at night. Also, people looking up can get a glimpse of the spectacular ventilation fans and the shivering lights of grandiose golden ball that spark up the night-time amusements. The flooring's disc shape motive cut out of glass guards a more than 200 year old garden fountain, and in the room's centre lays the exclusively designed, aesthetically singular Bombay Bar. The interior stage gives place to a piano. A perfect and quite elegant location it is for a more generous breakfast.
Puskás Pancho Sport Pub
Puskás Pancho Pub opens its doors at 7:30am, which makes it an ideal location for business breakfasts but it is also suitable for meetings, exclusive business, or private events later in the afternoon. The unit that pays homage to Ferenc Puskás's extraordinary sporting achievements is an elegant, exclusive place where guests can enjoy the broadcast of sporting events and which serves as an honourable location for any type of formal occasion.
220 Year Old Cellar Restaurant
A more than 220 year old wine cellar lays under Symbol House in Budapest, which has operated as a restaurant for six years now. We are most proud of the outstanding range of our Hungarian wine and palinka selection. Dishes we serve are the best of traditional Hungarian, Kraut, and Jewish cuisine, most of which are prepared in the wood heated beehive oven by our chefs.
Its elegant rooms offer a convenient balance of modern and classical. The rooms can also be used separately. We recommend them for business breakfasts or brunches of 30-40 people.
Symbol Art Gallery
The name of the place is already telling: it gives home to many an exhibition every month; however, it still does not tell everything about this peculiar area. Symbol's Art Gallery with its snow-white walls and minimalist design is the building's piece of jewellery. In this rooftop area the building's original baroque roof structure could be restored. The structure's heavy beams are connected by tenonmortises and , which consist the spectacular timber fame.
There are no fixed architectural elements or permanent furniture in the Gallery, which allows that the furnishing exactly match the event and clients' needs.
Should you pick Symbol Budapest as a location for an upcoming business breakfast or brunch, please don't hesitate to contact our event managers!
-