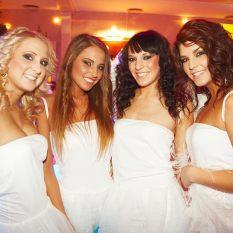 The bachelor or bachelorette party is the last chance for the wife- or husband-to-be to enjoy the last moments of his/her single life. This might be a never recurring moment when the bride and the groom are able, for one last night, to re-experience the freedom of their youth.

Basically, it is like a long deja vu, where you tease and pull the young couple's leg separated from each other once again, before uniting for the rest of their lives.
Ideas for games specifically designed for this evening spread like wildfire on the internet. So for now, we would rather write about those three basic things that are better to avoid so that you canhave a stylish and fun night of celebration indeed.
1.      Don't overdo the drinking!
The Hangover is typically a film that you go and see in the movies, laugh from the first to the last minute, and you go home thinking you want a bachelor party exactly like that. But if you think about it in fairness, no one would want an experience like that. The boys should not necessarily knock themselves out as to be greeted by a very living tiger in the bathroom of their wrecked apartment… This is funny in a movie, and guaranteed that it is not in real life. Booze is certainly a must-have, but make sure that the bride or the groom also has memories of one of the most important nights of his/her life.
 2.      Don't push the games too hard!
People are different. There are people who specifically enjoy being in the centre of attention and putting on a show, but others feel awkward and inconvenient in these situations. Once you are organizing a bachelor or bachelorette party, you probably know the party's protagonist quite well. You should choose only that kind, and that amount of games that you know she or he will also enjoy.
 3.      Don't plan on too many locations!
It is best not to include too many different locations in your itinerary, because the night will not be twice as long just for your sake, and you might end up just running from one place to another. It is worth choosing a location that matches all of your requirements: where you can have dinner and drinks, go out and dance or to stay private. Symbol Budapest provides all of these at the highest standards.
 If you are looking for an ideal place for a bachelor or bachelorette party, please contact our event managers!